Course details
【Choice meat with taste! 2.5 hour premium all you can drink】 Choose A4 Rank Wagyu 5 Ding Seng Course 8,000 yen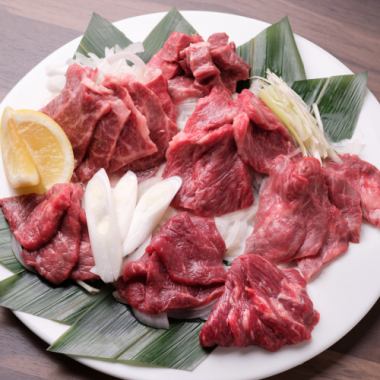 By using a coupon8000 yen
All-you-can-drink available

◆◆ Drink All-you-can-Game menu ◆ ◆ Please enjoy the premium all-you-can-eat menu !!
Reservation deadline

Coming to the store until the desired date of the day 17
Available days for reservation

Monday - Sunday - Public holidays - Holidays
You can choose the Meat of Wagyu-kyu's boasted beef with your liking! Please relish!
Course menu
Assorted kimuchi
Assorted Namul
Special Salad
Ox tongue
Choose A4 rank or higher Wagyu 5 beef sashimi
Please choose 5 points from (Ribulose, Zabuton, Wagyu Bee Calbi, Wagyu Harami, Shinsin, Turtle, Tomokawa, Tomosaku, Uchimomo, Wagyu Hormone).
Cold noodles or egg koopa
Special dessert
All-you-can-drink menu
· ■ Economy Plan ■
- Shochu, plum wine
· 【Potato】 Black Kirishima, 【Awamori】 Remnant wave, 【Plum】 Plum House (Rock · Soda · Water split)
· Sake High
· Oolong High, Green Tea High, Jasmine High, Brown Rice Tea with Matcha, Blue Juice
- Tipsy sour
· Lemon Sour, Lemon High Grapefruit Sour, Grapefruit High, Guava Shower, Guava Hai, Calpis Sour, Wenzhou Mandarin Orange
- Rice wine
Seoul makgeolli
·Sake
- Exciting
·wine
- Glass of wine red, white
·Soft drink
· Oolong tea, green tea, jasmine tea, cola, ginger ale, guava juice, guava soda, calp water, calpis soda, orange juice, wenzhou oranges juice, wenzhou oranges soda, grapefruit juice, tomato juice, tonic water, blue juice
·beer
· Premium · Malts raw
·Highball
· Cork High Ball, Ginger High Ball
·Cocktail
· Shandigafu, Red Eye, Campalibia, Cassisvia, Campari Orange, Campari Grape, Campari Soda, Cassis Orange, Cassis Grape, Cassis Oolong, Cassis Soda, Cassis Milk, Fazy Necessity, Peach Oolong, Peach Milk, Malibu Coke, Malibu Orange, Malibu Milk
·Cocktail
· Kalua milk, Screwdriver, Bulldog, Moscommeureur, Bloody Mary, Gin tonic, Jim Buck, Jin Ricky, Lychee Moni, Lychee Orange, Lychee Grape, Lychee Milk, Rum Coke, Lambtonic, Splitzer, Kitty, Keel
- Rice wine cocktail
· Cassis Makgeolli, Peach Makgeolli, Makgeol Calpis, Makkoribia
· Economy Plan +1000 yen
· ■ Premium Plan ■ ※ Plus adds the above to the above menu ※ can be changed with +1000 yen
·Whisky
· Hibiki, Hakushu, Hennessy
·Sake
· Select daily special sake
· Shochu
· «Potato shochu» Red Rabbit, Tomoyuki Mountain, «Wheat Shochu» »Enma
·plum wine
· Moon in the sky, ripe plum wine
Coupons that can be used with this course
2018/06/19 update